Post by slim on Mar 20, 2019 20:22:16 GMT -2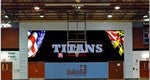 Fact is we've already spent too much time here talking about Wood. I could list 10 players better than him right now in MOCO. Some of them probably don't even have D3s locked up yet.
I just find it fascinating that this kid gets so much hype is all. I am still trying to figure out what he's actually done to warrant it. That's not hate. Somebody educate me, maybe I'm missing something. But I can tell you that the way he is hyped is disrespectful to all those kids in MOCO who are better than he is. You don't see them out there pushing a campaign, vidoes, social media, multiple AAU teams, multiple schools etc. They just play.
So if you Titans are behind that stuff, you are not helping the kid one bit. In fact you are hurting him because he has become a symbol of derision throughout the county and according to my good friend, college coaches. That's not fair to the kid. He's a kid - probably a good kid too. His handlers are 100% to blame - this has the markings of adults all over it. They are using the kid for their own personal agendas. To me that is the real hate going on here. So you can get mad at slim, me or anyone else for calling this hype out but somebody in Wood's group needs to take a hard look in the mirror and decide if they are doing right by the kid. Let the kid be and do his thing. If it is going to happen for him it will happen based on performance and not hype.
Here are some facts from Post: 10.8 ppg, 4 apg, 5.4 rpg, 14 3's and 64% FT's. Scored more than 20 or more points twice this season and was held to single digits 7 out of 19 games reported. All this on a below .500 team in MOCO. The one game I saw him play live this year he got torched early (so much so they had to switch him off) by the kid from Whitman (Lewis) who I think is a d3 commit (no disrespect to him he is a good player just using that for comparison). On the other end, Lewis guarded him all night and held him to 9 points with most of those coming in transition when they weren't matched up. Sound like a highly sought after D1 guy when you can't even win (not just win but dominate) a match-up with a D3 kid? You can all decide. I know what I see right now.
Mocobbwatcher- Stop hating with all those FACTS!!!! How dare you... LOLOLOLOLOLOLOLOL